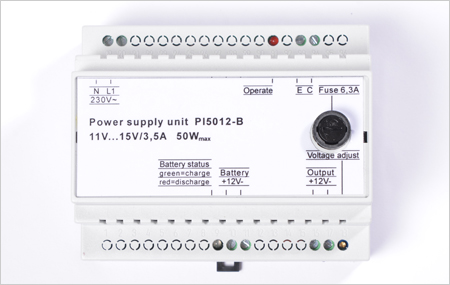 20.2.2020
Pover supply unit PI5012-B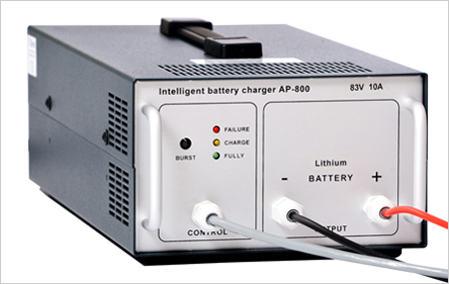 20.2.2020
Charging description for Lithium batteries
As soon as the battery (20 Lithium cells) is connected to the charger, it starts charging at maximum current. The final voltage is a maximum of 83V, but can be lowered by riders down to 73V or 76V or 80V. The charging current is 10A. The first charge phase (SOC) is bulk. The yellow LED flashes. When the current drops to a value of 75% that is 7.5A the yellow LED lights up continuously, the system goes into phase (SOC) absorption. The charging current decreases further when it drops below 25%, ie 2.5A, the system goes into the float maintenance phase and the green LED lights up. The battery is charged. If the connector is disconnected from the battery, the voltage at the terminals goes off after about 2 seconds. The charger is reactivated when the connector is closed with the charger and the battery voltage must be at least 40V, if this is not the case then the BURST key on the front panel must be pressed until the charger is activated. The device has a control input for dimming (reducing) the charging current to approximately 500mA. The input is galvanically isolated from the device and requires a voltage of 3.3V to 15Vdc to activate, brown = plus, green = GND. The required current is approx. 12mA. This is used in cell balancing. The yellow LED will always turn on and blink, no matter what phase (SOC) the charger was in before. When balancing stops, the device recharges with normal current. If the device overheats the red LED, charging is interrupted, the fans operate at full speed. It starts charging again when the device cools down properly, the yellow LED lights up again.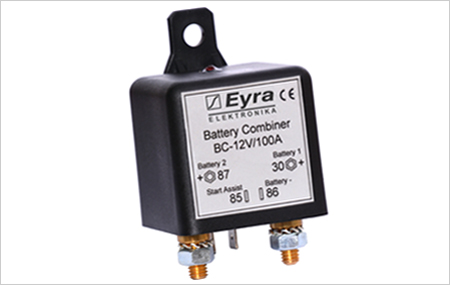 20.2.2020
Battery combiner BC-12V 100A
Battery combiner or battery relay BC-12V 100A is an automatic system for charging two or more batteries at once, on boats and motorhomes
A battery combiner or a relay battery combiner perfectly replaces the diode battery insulators as they have high losses. At the same time, diode insulators make it impossible to read the voltage of modern battery chargers so that they cannot function properly. A battery combiner is the right solution for all the disadvantages of a diode insulator, but at the same time it does not have any bad features compared to a diode insulator. The battery combiner or battery combiner contains a power relay that has almost no voltage drop even at very high currents and is controlled by a microcontroller. The microcontroller accurately measures the voltages of both batteries, the rate of rise and fall of charge / discharge voltages, and respectively connects or disconnects the two batteries.